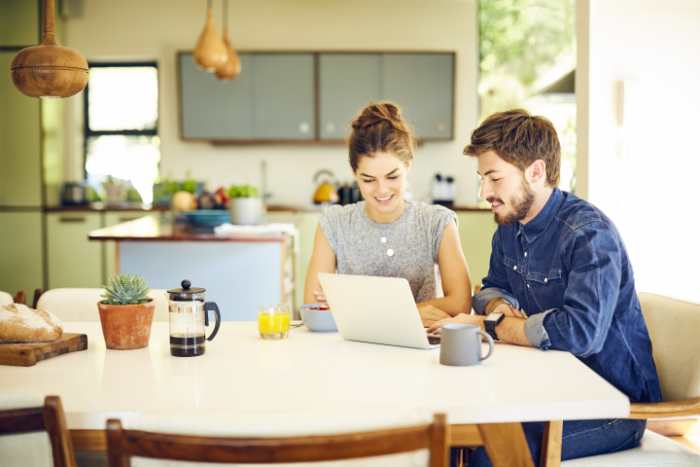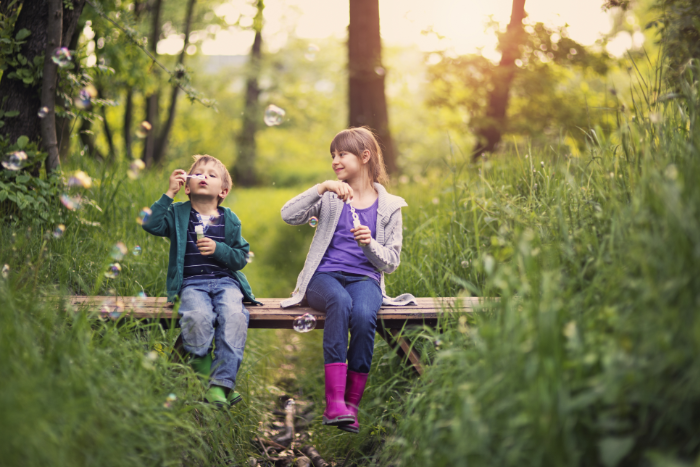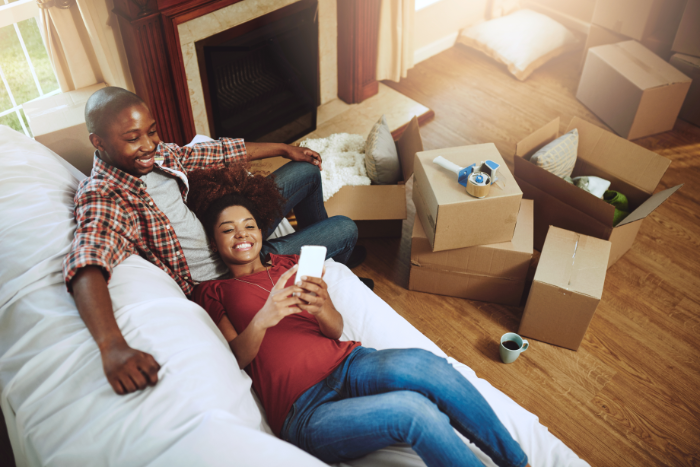 3. What are your must-haves?
Put pen to paper (or pull out your phone) and create a list with three sections: must-haves, preferences, and deal breakers. This will help you gain clarity and you'll refer back to it often when comparing homes.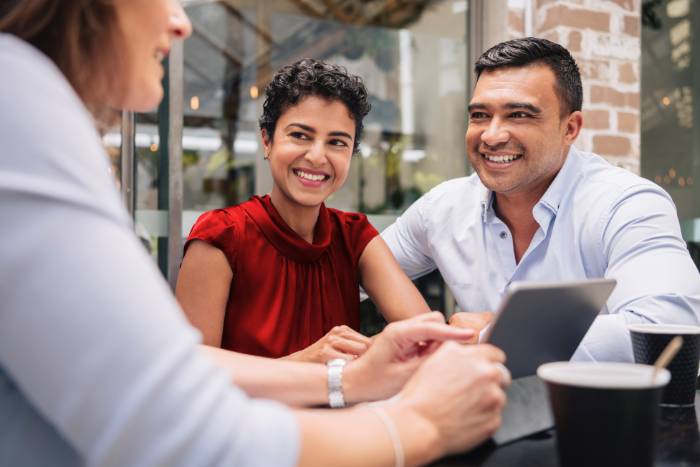 4. Is Royal LePage Benchmark on your team?
A team of trusted real estate professionals in your corner offers expert advice and guidance to help ensure you make the best decision for your finances and your future in Alberta. This is why you want to choose a real estate expert and real estate company who has your best interests top of mind. Your real estate agent should be able to refer you to other reputable professionals as needed, such as a mortgage specialist, home inspector, and lawyer.
Why Work With a Royal LePage Benchmark Professional?
When it comes to buying your perfect Alberta home, there are many steps and decisions to navigate along the way. By partnering with a Royal LePage Benchmark Associate, you can rest assured knowing we will:
Take the time to educate you on your options.
Tailor your search to the homes that best fit your wish list.
Stay ahead of the Calgary real estate market trends and offer professional advice and guidance.
Connect you with the right professionals and resources.
Help you make the decision that is best suited to your unique goals.
Negotiate on your behalf and put you in an ideal position when making an offer.
Ready to get started? Connect with us and let's talk about your home ownership dreams.
Testimonials
" I was very lucky to have crossed paths with Brenda Field. I immediately noticed her prompt responsiveness. She is a very kind and down to earth person, with strong knowledge and intuition regarding the yyc real estate market. Brenda ultimately found us exactly what we were looking for and we feel like we hit a home run. This has been one of the most positive business relationships I've had in my life, and you will not be disappointed. "
- Justin Cyr
" Brenda Field was amazing to work with as we were looking for our first home. As first time home buyers, we were extremely nervous, but Brenda walked us through the entire process. She went above and beyond in helping us navigate the bid process and some of the hiccups we encountered. She was exceptionally responsive throughout the entire process and answered our many questions promptly. If you are looking for a realtor you can trust, I would recommend Brenda! "
- Rebecca F.
" Brenda is fantastic to work with! She is very professional and a pleasure to work with. We told her what we were looking for, She set up the appointments minutes after we asked for a viewing. She was super helpful during the process as we are first time home buyers, She gave us lots of tips and explained to us how the process works. She is very quick to reply, and gave us all the info we needed when we needed it. We closed on a house and could not be happier. She made a very stressful process seem easy and fun! It was an awesome experience and if we ever buy another place or know someone who needs a realtor we will be recommending her! Thank you Brenda! "
- Donald Ironside
" Brenda is a professional realtor through and through. Right from our first meeting, she walked us through everything we needed to know and think about. She provided us with the information we needed to decide on the listing price and guided us through the sale process. If you are looking to buy or sell and don't have a realtor, my husband and I recommend Brenda. "
- Carolyn & Larry Gunn
" Brenda Field is a talented Realtor and I felt fortunate to have found her to sell my house. She stood by me as a stalwart friend during some very difficult situations. I thank her for her invaluable help. I highly recommend her. I also hope that our friendship continues. Thank you Brenda. "
- Carolyn Walker
" Brenda was so amazing to work with for my very first home purchase! I originally met her at a random open house I happened to walk by, and a year later when I was ready to buy I knew I wanted to work with her. She was very helpful throughout the whole process and was very patient in helping us find exactly what we wanted, even though it took almost a year, a few competitive offers, and many, many showings! Even at the end when we hit some roadblocks with the house we ended up purchasing, she handled it so well and was always looking out for our best interest. I cannot thank Brenda enough for being such a great agent to work with! I am excited for her to help my mom buy a house when she moves to Calgary soon and will continue to recommend her to other friends looking to buy or sell! "
- Haley
" Brenda Field is not a Real Estate Agent. She is a friend. A friend in need is a friend indeed. I say this because at the close of the sale, I came down with covid and hospitalized. It is through her professionalism, diligence, support, dedication that I was able to complete the transaction smoothly. Brenda also helped beyond the call of duty of a Real Estate Agent in looking after many of the after sale followups. To her, I am grateful. I literally met Brenda at the corner of a street. It is through this serendipitous encounter that Brenda is my agent. I would like to succinct my experience with Brenda - find me a Real Estate Agent who can complete a sale 15% above asking, she is the only one I know and you need not look elsewhere when your opportunity arises. "
- Albert Tsang
" Brenda is an absolutely amazing realtor. Her expertise lent well to our search and we now have an amazing home all thanks to her. Choosing Brenda means a wonderful experience and a home that you'll love. "
- Ellen McClure
" We were very pleased to have Brenda help us finding a condo in Calgary. We were both new to condo business and Calgary. It was not a stressful experience and quickly became a success.. "
- David and Maria Duplain
" It was a real pleasure working with Brenda Field. She was exceptional narrowing down our search, as we weren't sure when we started, whether we really wanted to buy a condo, house, lot, or acreage as a second property. The process was a bit overwhelming because of the markets high (demand) but Brenda was extremely knowledgeable and patient. We were able to buy the right place for us thanks to Brenda. We know we are very particular people and certainly put her to the test thinking outside the box and boy did she deliver. We would highly recommend Brenda as a realtor. "
- Lesly
" As the owner of several properties and homes in the United States and now Canada, Brenda Field was one of the best and most knowledgeable real estate professionals I have encountered. As a US citizen she introduced and advised me on all aspects of my home purchase including mortgage lending, trades for renovations and utilities. My process in purchasing our home was made effortless because of Brenda's hard work and efforts. She was always available to take my calls and responded almost immediately to all of my requests. I will be using Brenda for all my future real estate transactions and would not hesitate to recommend her to anyone purchasing or selling their home in Calgary. Brenda defines the role of a full-service real estate agent. "
- Dean Liollio
" Brenda is truly a subject matter expert in real estate! Her exuberant personality and passion for her work is what sets her apart and above the rest. Without a shadow of a doubt, I would recommend her to anyone who is looking to work with a realtor. "
- Francis Tan
" After a bad experience with another realtor, working with Brenda has been an absolute breeze! She was always available, answered all our questions within hours, manage to present a (winning!) offer in 2 hours and was just overall very easy to work with. Wish we knew more people around Calgary to recommend Brenda. "
- Lea
" Brenda has been extremely helpful in our first-time homebuying experience. She truly cares about her clients and wants the best for them. From viewing multiple properties to closing a deal, Brenda is a very professional real estate agent! "
- Gregary G.
" I met Brenda through a referral from my daughter. I've owned several homes in the US and this was my first purchase in Canada. I work in the real estate industry in Californa and I know exceptional service from a professional when I see one! Brenda is hands-down at the top of her game and a true professional. I highly recommend Brenda if you are looking to buy or sell...you will not be disappointed. "
- Susan Loiselle
" Brenda Field is very knowledgeable, professional and passionate about her career. Brenda really listened and cared about what I needed when it came to helping me find a home. I highly recommend her for anyone looking for a home. Anyone who works with Brenda is lucky to have her on their side. It's a competitive market and Brenda knows how to navigate the complexities to her clients advantage. "
- Debra Gardner
" Brenda, an absolute legend of a realtor has gone above and beyond to find me the most perfect house in Calgary. Being new to Calgary, Brenda spent an enormous amount of time explaining to me the process of purchasing a home and provided me such valuable information in my search for a new residence. Her expertise in the field coupled with strategic advise in closing a deal has impressed me and made me confident in her capacity as a trusted advisor. I would highly recommend Brenda to anyone looking to work with a stellar agent who not only possess deep knowledge in the world of real estate but also a warm and personable individual. "
- Darum
" Brenda has a warm disposition and a passion for helping others find exactly what they need. I highly recommend using her to find your home. "
- Mia Michelle
Previous
Next